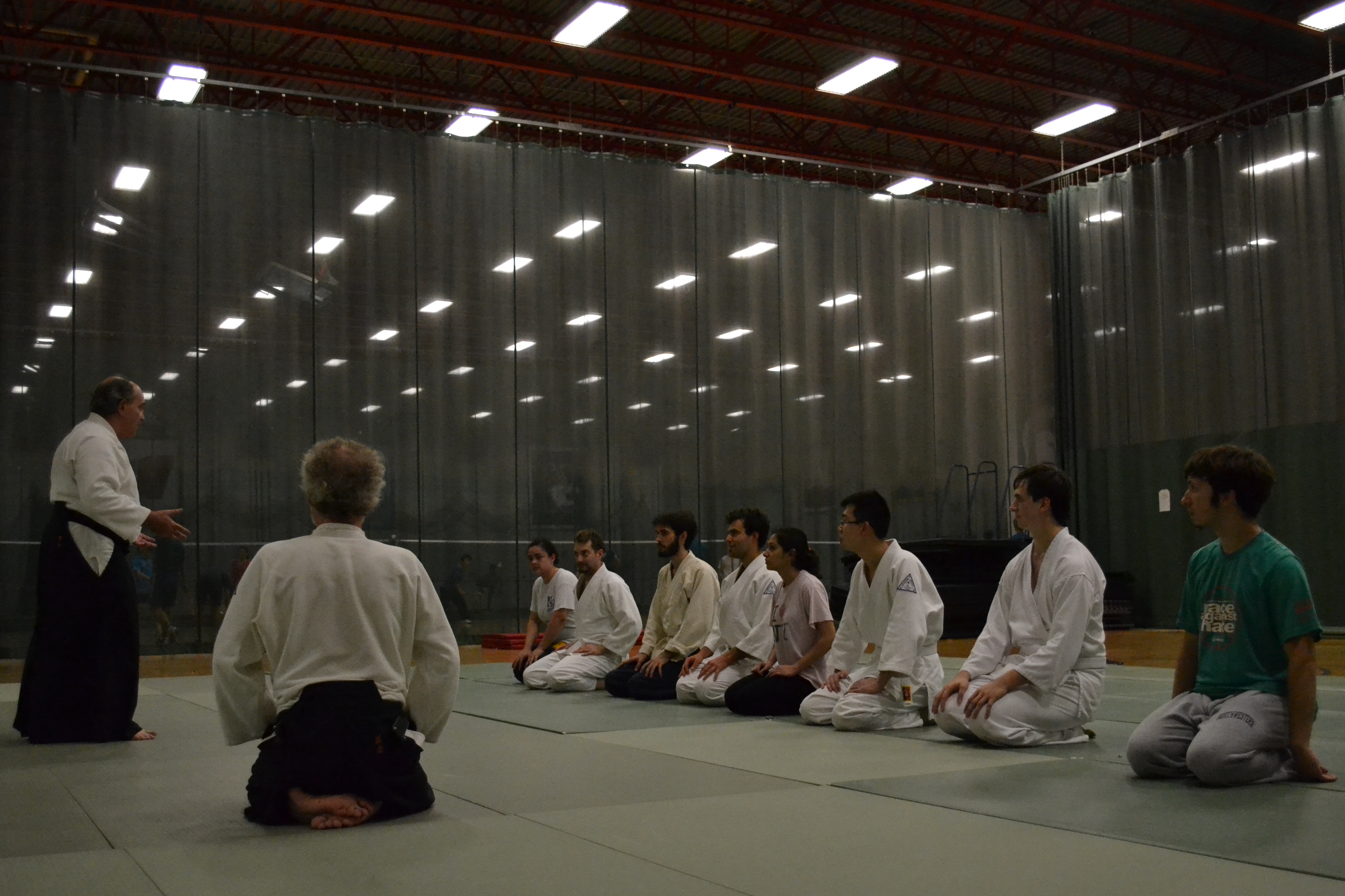 Welcome to the website of the Northwestern University Aikido Club. Founded in 1974 by the late Fumio Toyoda Shihan, the Northwestern Aikido Club (officially Zanshinkan dojo) is a club dedicated to practicing the martial art of aikido.
Practice times and Location
SPAC Studio 1B or outdoors if weather permits.
Monday, Wednesday, Friday 6:45-8:45pm
During the summer practice details can change weekly to take advantage of outdoor training opportunities. Please contact us for more details.
No experience is necessary you may join during any time of the year.
Aikido is a dynamic, powerful and graceful art founded early in the 20th century by Morihei Ueshiba.Training emphasizes decisive techniques of defense (throws, joint-locks, strikes, and immobilizations) as well as traditional weapons training (long sword, staff, and knife). These are practiced within the framework of a philosophy that seeks to avoid harming others whenever possible. Though a relatively modern art, Aikido is a potent distillation of centuries of martial knowledge. Through its techniques and principles, it transmits the most noble teachings of Japan's samurai tradition. Aikido is practiced by thousands worldwide, not only for fitness and self-defense, but as a vehicle for deep personal development. For more information on aikido, please visit the About page or e-mail us at NUaikido@gmail.com.
All Northwestern undergraduates, graduate students, staff members, and faculty are welcome to join the club. Interested in aikido? Come out a try a few classes for free. Just come to any class wearing free moving athletic clothing that covers your knees and we will get you started. You will be given basic instruction on falling and practicing safely during your first class.
The aikido club holds classes in the SPAC facility Wednesdays from 6:45-9:00 PM and Fridays 6:00-8:00 PM in Studio 1B during the fall, winter, and spring quarters. We set up the mats prior to class, so please come a few minutes early. If you are new to aikido or martial arts feel free to stop by any time to check out our practice. Occasionally there are days when SPAC is closed and we do not have class, so double check our Calendar before stopping by. For more information on the aikido club visit the About section.